My personal website choice
January 7, 2022 • Website • Decision ⌇ Connect ↗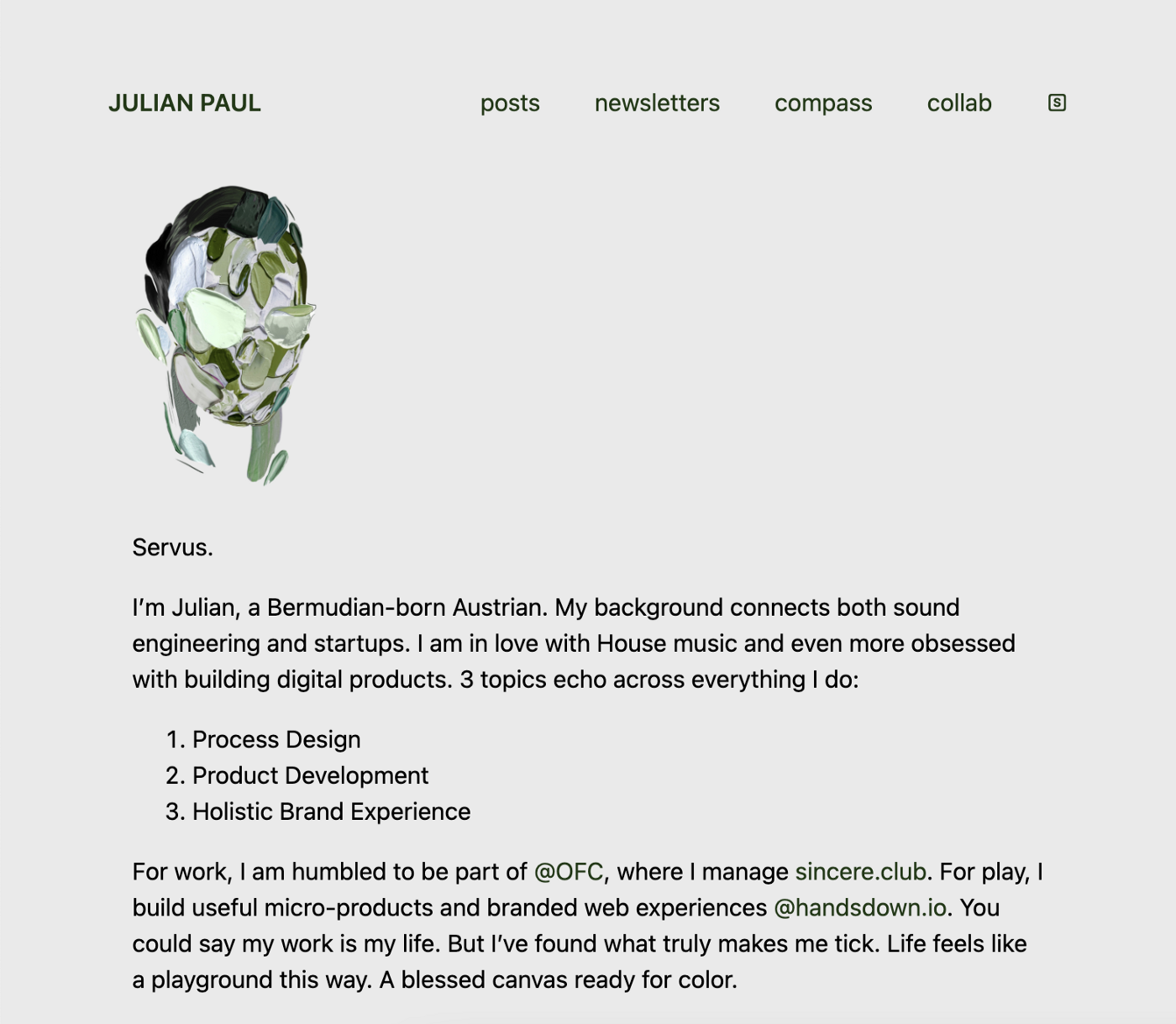 julianpaul.me landing page
I've spent a ton of time dabbling with different website builders and always find there is a significant learning curve and/or opportunity cost attached to sticking with a system like Webflow, Wordpress, or Squarespace.
For personal use, I've found design-first website builders like the aforementioned to be more of a distraction as they open up infinite avenues for you to explore. But I seem to operate better with limitations. Less optionality helps me channel my creative energy and get stuff done.
When it comes to professional or company websites it's easy to make the less cost-effective choice because things ought to evolve & change frequently. But personal websites are different. Ideally, you won't have to update the design or structure of your website for years to come. This is more of the 'set and forget' vs. 'infinite iteration' mentality. On top of that, spending 100s of coins a year just to have an online presence isn't ideal. A personal website should simply live on the world wide web like a book you add chapters to, post by post. It should help you focus on what matters: output. For me this is twofold:
Regular, almost weekly blog posts.
Regular newsletter updates.
Sadly, this output was seriously lacking, so I had to make a change for good. One that would make me happy for the next 10+ years. Over Christmas 2021, I relaunched my personal website julianpaul.me. Previously, it lived on Webflow, but now it's on blot.im. And I absolutely love this new setup.
---
Why I moved
As with anything in my life, I spend a good amount of time rationalizing why I do or buy anything. I find it important to capture the reason why, so I can later remember what I initially saw. This makes the next decision a step forward and avoids me from running in circles.
Here are 3 reasons why I chose Blot for the next 10+ years:
Price → even for starters at $12/m, Webflow is expensive. Blot costs $4/m. Granted, it does not provide you with a number of features. But honestly, after 2 years of using Webflow, I didn't even open the designer anymore. So what's the point?
Customization → being able to fork templates and edit code on Blot is just fun. If you know your way around

CSS

you can make it 100% your own. And the text-focused feeling makes your site feel special. But if you don't know code, it can be fiddly.
Writing → Blot is basically a folder on my Dropbox. Whenever I start a new post, I open up

IA

Writer and get to it. Once I say

'

Draft: No', it's live. Without needing to manage a

CMS

, all barriers to writing are gone.
I've also customized my website with certain pages like my homepage feeling like a linkinbio, my compass where I share my life's principles, and collab where I expand my network with new connections. All in all, I see real value in a text-first vs. design-first approach to building websites now.
But there are plenty of personal publishing alternatives you probably have not heard about, but are worth checking out ↓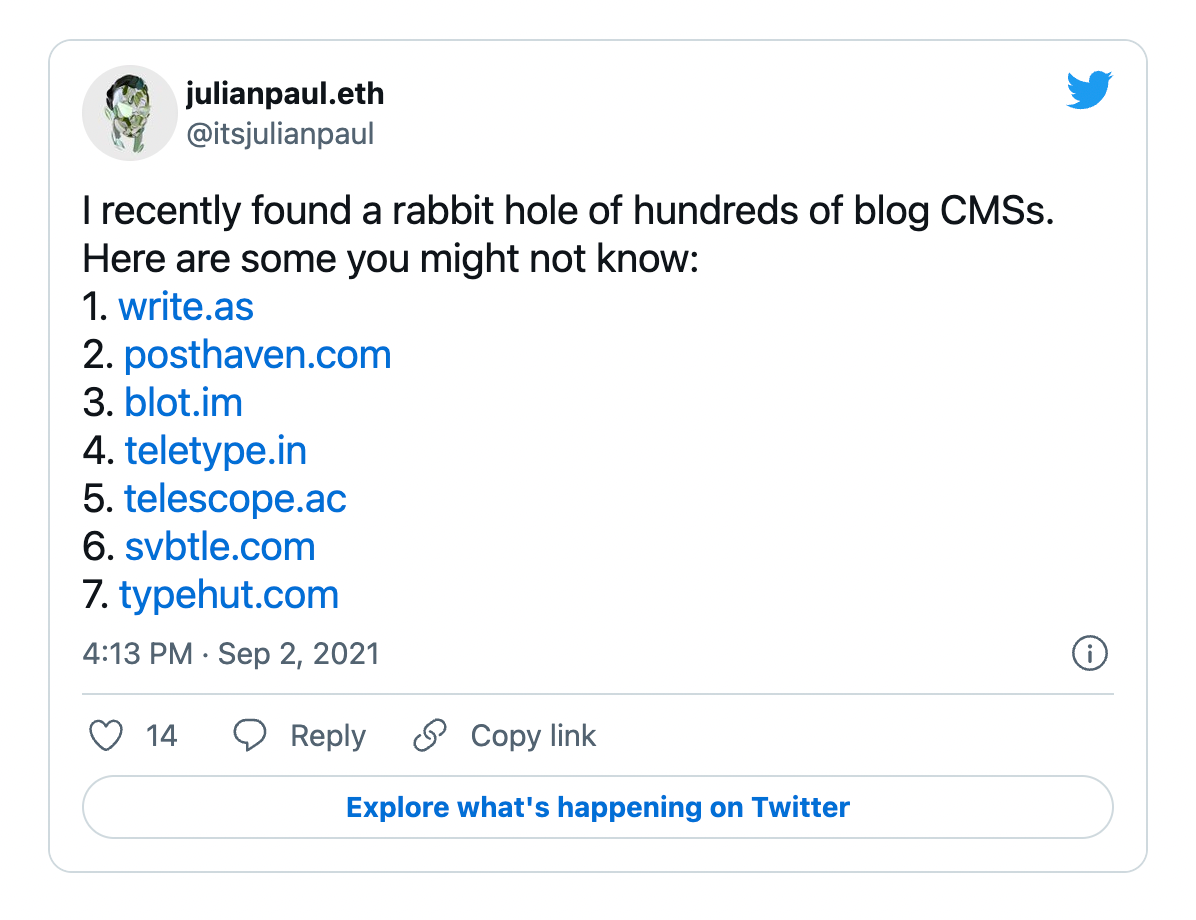 A rabbit hole of hundreds of blog

CMS

'

s landing page
---
Going full circle
Personal websites shouldn't be complex. Start treating them like a book you add chapters to as life progresses. And center that around your #1 format. Is it images, videos, or writing? The perfect publishing platform is out there.
For me, blot.im is handsdown (no pun intended) my favorite website & blogging platform. I feel like it's a playground I can make my own without going all too crazy. It helps me focus on what I should be doing: writing more.
Our minds will actively look for a way out of feeling boxed in. Limitations drive creativity.
So when you are about to choose a web service provider, connect 3 solid reasons with 1 product worthwhile. And you will be happy in the long run. I will leave you with this: What are your 3 personal website non-negotiables?
---
Thank you so much for reading this far. If you want to connect, let's use Twitter — I talk about product building on web2/web3 and entrepreneurship.
See you around.