How I made $500 with a Notion dashboard and spent $0 on marketing
June 13, 2021 • Startup • Business ⌇ Connect ↗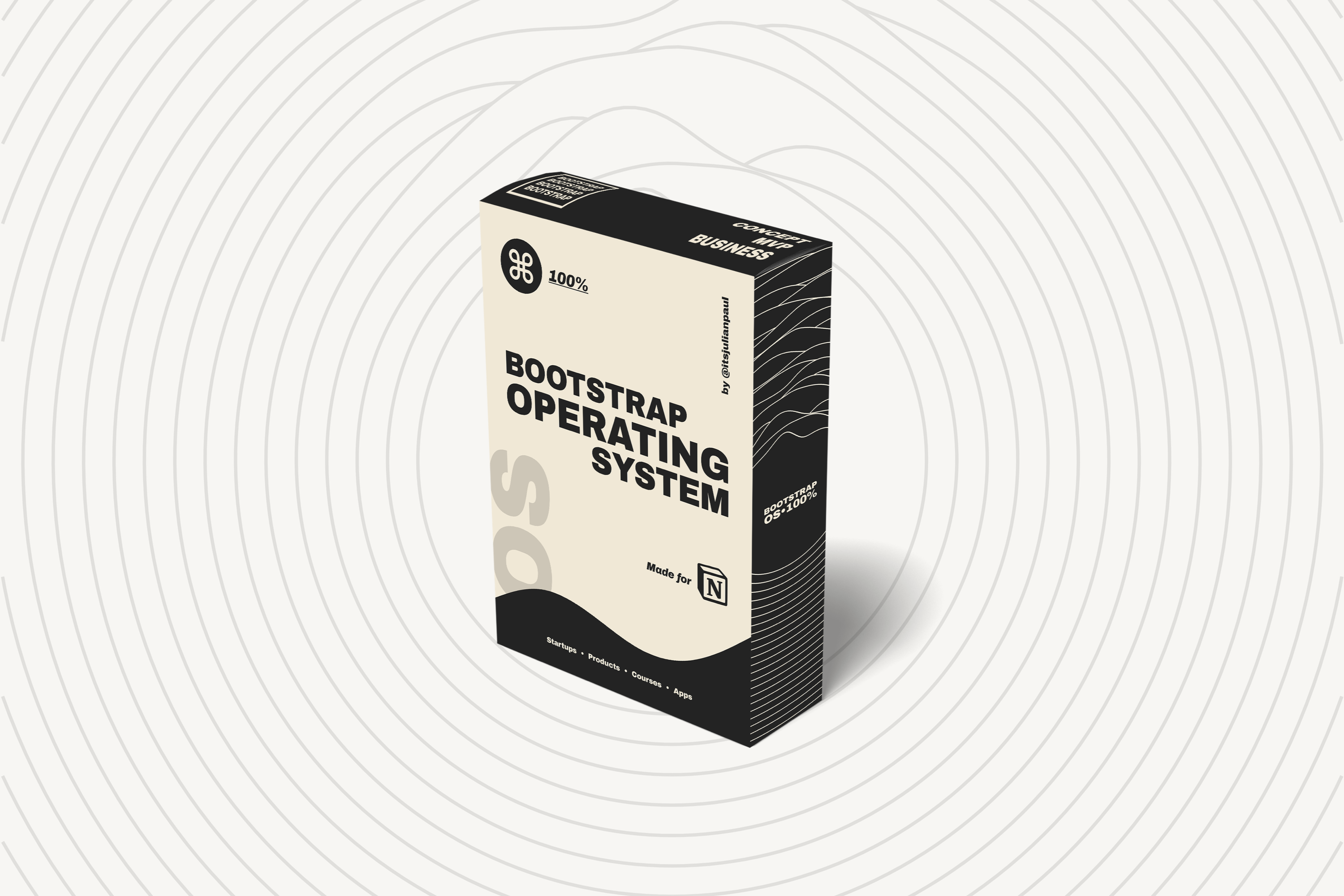 BOOTSTRAP

OS

Box Design
I do everything in Notion… organising my personal life, planning my professional life, and tracking my overall progress. So I created a digital product at the intersection of my skills in the following 3 ways:
What interests me: structure & optimisation of my personal & professional.
What interests my audience: progress more effectively with hustles.
What I have credibility with: 2 startups & 2 business degrees.
---
Why I created
BOOTSTRAP
OS
I am currently doing my MSc in High Tech Entrepreneurship in Barcelona and also have a degree in Business Development. I've been exposed to standard business building procedures, but never dove deep into startup theory until I had this class: 'Lean Startup & Customer Development Bootcamp'. There, my world was turned completely upside down. Why? Because I was building products that I thought were needed up until that point. Which more or less worked, but it's an approach that is never going to compare to building a product for customers that are truly experiencing a real problem.
And this is where customer-centricity, customer discovery interviews, and even customer development interviews come into play.
As I was amazed by the logic and relevance of this approach to make so much sense, I also noticed how badly people structured and documented their business building process in my class… What did I need to do? I needed to start with them and so I began by observing their habits and even more importantly their problems. Leaving me with A TON of learnings.
Now, you could definitely say I was IN the customer segment. This has its pros and cons. The biggest con is that I am too close to the problem. So, I had to make the extra effort and eliminate my assumptions to open my eyes and ears. Only to be amazed. I learned things I could never even come up with myself.
And so I built BOOTSTRAP OS: a step-by-step guide to get your bootstrap your way from idea to business.
My main takeaway? Speak with customers as early and often as possible!
---
Where my first $500 came from
Marketing any product is difficult. And most of the time even towards your friends. But your friends aren't real customers… They are most of the time not even the right ones to ask for feedback.
So I decided to go a different route. I used my social profiles to source for case studies. And I gave every interested person a copy for FREE. Why? To learn from them in exchange for a 60min onboarding and feedback call.
I learnt so much, the product even shifted its purpose, positioning & name.
After I got the landing page & Gumroad copy on point, I submitted the template to Notion Marketplaces. There are 2 not(ion)able ones:
These marketplaces were key to getting my first sales and exposure. And I was over the moon when money started appearing. But I knew this was just the beginning. There was so much more to do…
I started to ramp things up. Tweeting about my product and what I do exposed me to the makers of those marketplaces. From which I again received invaluable feedback and even placements on the front page, newsletter & so on. What do they get? An affiliate fee ranging from 10–20%.
Then I collaborated with an amazing motion artist in my university to create this killer 20sec teaser that lives at the top of the landing page & YouTube:
People loved this teaser. And I think it's perfect for YouTube Ads, but that's an assumption… What do you think? Would you buy BOOTSTRAP OS if you were served an ad like this?
The main takeaway? Marketplaces are key for first sales in digital products.
Where my next $500 dollars will come from
I am planning a 2-sided strategy alongside building on the previous & hopefully continuous successful approach:
Recording YouTube videos on each of the 4 sections as walkthroughs for new users/explanations for users that purchased

BOOTSTRAP

OS

.
Writing content for the

BOOTSTRAP

OS

website from an

SEO

standpoint. People are searching for a lot of bootstrapping-related topics.
And then we will see. I am open to suggestions on the marketing side of things, considering it is not my strong suit. Any ideas?
---
The
OS

Differentiator

I think there are now many different full operating systems out there. Most, offer collections of templates, but no bulletproof plan and process. Examples of this are Startup OS & Entrepreneur OS.

But there are also closer, even direct competitors. Examples are Startup Builder MBA & Launch OS. Apart from obvious pricing differences, I think the differentiator of BOOTSTRAP OS is quite clear: it gives you the blueprint to solve real problems, by thinking and building customer-centric. In 4 phases:
Foundation (7 templates)
Idea to Concept (5 templates)
Concept to

MVP

(6 templates)

MVP

to Business (5 templates)
Apart from this differentiator/unique selling point, what is the clear problem & solution of BOOTSTRAP OS for founders?
PROBLEM

→ Entrepreneurship is messy. And your business is scattered across various Google accounts and 20+ files.

SOLUTION

→ One single Notion workspace that guides you from A to B.

BOOTSTRAP

OS

takes care of the plan and process for you.
---
The Numbers
BOOTSTRAP OS has 3 different pricing options:
BOOTSTRAP

OS

Ideapad for

FREE

100%

BOOTSTRAP

OS

for $59
100%

BOOTSTRAP

OS

+ A Call w. Me $99
In total, the complete customer count reached 55 today. From that, 32 customers got the FREE template and 23 bought the full OS.
Revenue totaled around $622 including discounts, fees, and affiliate payments. Factoring all of those in, I made 500$ profit.
How does the traffic look? Fluctuating… (revenue not tracking in GA):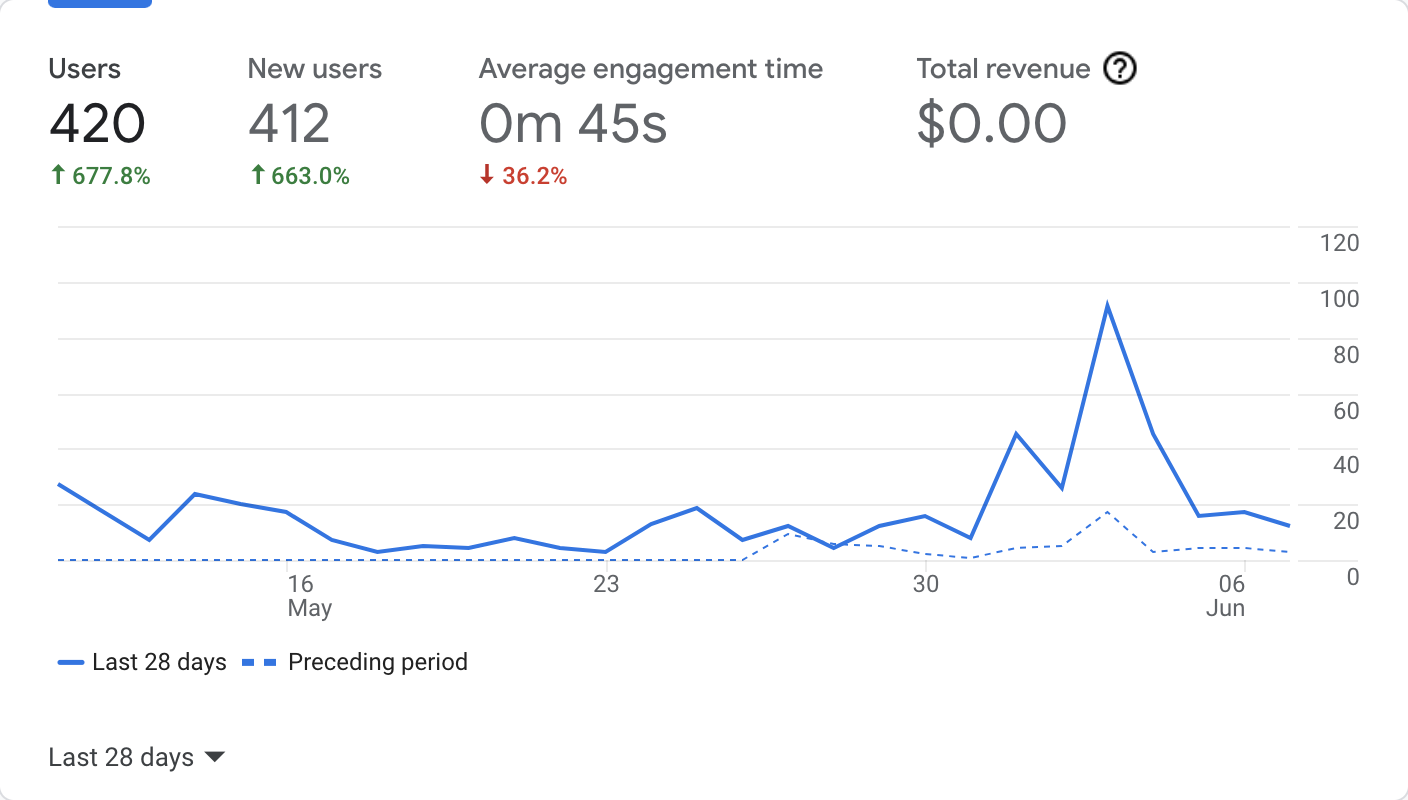 Google Anlaytics Data for

BOOTSTRAP

OS

May-June Performance
---
How you can do the same
It would be weird of me not to put a shameless plug in this article, but you can realize a Notion product or any other idea into a real business with BOOTSTRAP OS. Especially if you want to make an impact solving a real problem and know you need a customer-centric approach to find product-market fit.
Because that's the only way to find success with a meaningful product. If you are just drop-shipping or running an e-commerce, BOOTSTRAP OS probably isn't for you.
By now it's clear I built BOOTSTRAP OS with BOOTSTRAP OS. So if you want to do something similar, all you need is to follow these 5 steps in order to create a Notion-based dashboard:
Identify a common workflow task that takes hours of time.
Validate if more people than yourself need a solution.
Build a template or dashboard around it.
Brand it, price it smart, copywrite it & launch it on Gumroad.
Submit your assets and copy to the aforementioned marketplaces.
And that's that! Don't forget to install Google Analytics, Hotjar or other tracking methods on your site, so you can see what, where & why things are happening.
---
If you've made it this far, thank you for reading.
I'm pricing BOOTSTRAP OS for $59 at the moment of writing, but it will increase to $59 soon.
Let's build. More. Better. Together.
Cheers.